Fun with Fruit
by Jenny Hannifin
Thursday June 22, 2017 4:39 pm
As I was processing a collection of agricultural yearbooks (1902-1998), I didn't expect much in the way of beauty.
But amidst the descriptions of foot-and-mouth disease, insect infestation, and state-by-state parameters for "a bushel," I found these delightful color plates.
Enjoy the fruits of my labor – all from The Yearbook of Agriculture: 1902 (published by the US Department of Agriculture).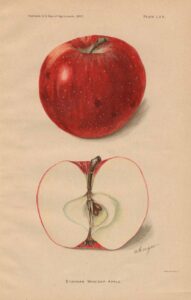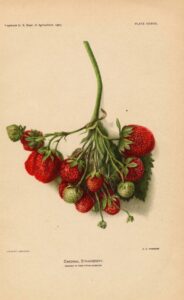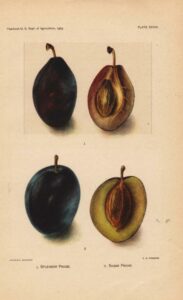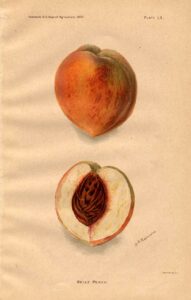 The post Fun with Fruit appeared first on Fort Collins Museum of Discovery.
---
Growing "up" – Fort Collins' first skyscrapers
by Jenny Hannifin
Wednesday June 07, 2017 5:19 pm
These days, a drive around Fort Collins always includes orange traffic cones, route deviations, and a horizon line crossed with a building crane. We are growing, aren't we? Fort Collins residents of the 1960s felt the pressure of growth as well:
"City planners were hard pressed to keep up with the city's growth, especially in the rapidly developing suburbs. Fort Collins' population almost tripled between 1950 and 1970. New industries, such as Kodak and Aqua Tec, were locating in the area, attracting more people. The Chamber of Commerce reported that industrial employment rose from 1,068 in 1960 to 3,411 in 1969. Builders tried to keep pace with the growth as all-time records were set for private construction. A consequence of these efforts was the building of Fort Collins' first skyscrapers. The twelve-story First National Bank Tower and the eleven-story Home Federal Savings Building (now Norwest) were built in 1968."  (From "Timeline 1960", www.history.fcgov.com  )
Plans for First National Bank's twelve-story "condominium" office building at 205 West Oak were publicly announced on November 19, 1967; less than two years later, Fort Collins residents celebrated its completion.  According to the Denver Post, "An estimated 12,000 persons attended the recent one week long celebration opening the First National Bank's 12 story building" (7-6-1969 4/5).
Here's a shot of the "new" building from June 16, 1969: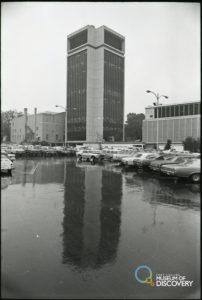 Here's a ribbon-cutting picture taken at the opening, also from June 16, 1969: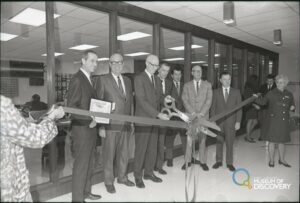 This aerial shot shows the cityscape northeast of the new tower: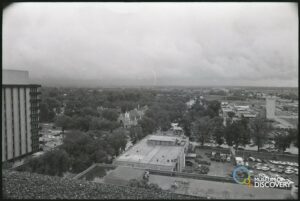 Building is a messy process.  To actualize this (a rendering of the "new" courthouse, circa 1969):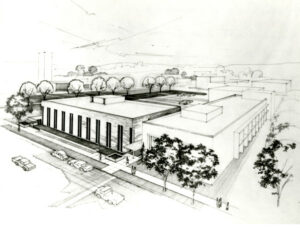 You gotta go through a lot of this: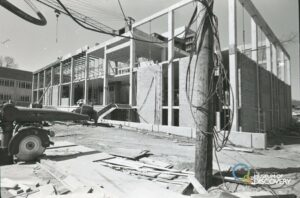 and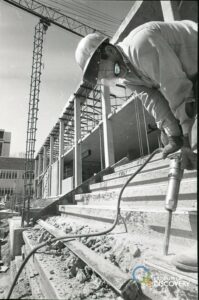 The post Growing "up" – Fort Collins' first skyscrapers appeared first on Fort Collins Museum of Discovery.
---
Art as Science: Early Botanical Artists
by Jenny Hannifin
Saturday May 06, 2017 5:11 pm
RARE II – at FCMoD from May 6 to August 6 – is an exhibit of contemporary botanical illustrations depicting globally imperiled plants found in Colorado. Members of the Rocky Mountain Society of Botanical Artists created these works of art using the Master List of Rare Plants (produced by the Colorado Natural Heritage Program). I hope you have a chance to see this rare combination of scientific accuracy, aesthetic appeal, and technical mastery.
Which brings me to my subject today:  a glimpse at the role botanical illustration played in the early history of science.
Surgeons traveling with the Roman army – including Greeks Dioscorides (circa 40-90 AD) and Galen (131-200 AD) – compiled herbals (text + drawings) that remained the primary materia medica texts for centuries (by some accounts, at least 1500 years). Herbalism traditions were preserved through the middle ages in the monasteries of Britain and Europe, where monks copied and translated works of  Hippocrates, Dioscorides, Galen, and non-Western scientists like Ibn Sina (aka Avicenna). The advent of the printing press in the mid-fifteenth century created unprecedented access to mass-produced books, some of which included botanical illustration. (Details in this paragraph drawn from the University of Virginia's Claude Moore Health Sciences Library, exhibits.hsl.virginia.edu/herbs/brief-history/ ).
So, Printing press + Woodcut illustrations (later lithographs) = Beautiful botanical books of both scientific and aesthetic value.
For more details about the background of botanical illustration, check out these folks:
16th century, Leonhart Fuchs
17th century, Maria Sibylla Merian
18th century, Pierre-Joseph Redouté
19th century, Pieter de Pannemaeker (Ghent) and Emily Stackhouse (Cornwall)
And enjoy the Rare II exhibit!
The post Art as Science: Early Botanical Artists appeared first on Fort Collins Museum of Discovery.
---